I think it makes excellent sense for Modi Ji to promote tourism in Karnataka while campaigning for his party. Many northerners like me do not know that the Yakshagana state has so many gems to offer, travel-wise.
Would you agree with me?
Tourism in Karnataka- Beyond Hampi and Mysore
There is life beyond Hampi and Mysore for travelers, and this post will take you to the unknown and secret world of waterfalls, caves, and beaches of Karnataka. So here goes.
This article will cover two interesting places- Hassan and Agumbe in Shimoga district.
Wonders of Hassan
This Karnataka district is named after Goddess Hassanamba or 'The Smiling Goddess'. I consulted a website on tourism in Karnataka and was pleasantly surprised to note that Hassan is also associated with King Janamejaya, the great-grandson of Arjuna Pandava. Wikipedia tells us that this place was also connected with two ancient Karnataka dynasties- Ganga dynasty and the Hoysalas.
While exploring Hassan, you may like to indulge in the following activities;
Get Massaged 
Cost- INR 5.800-13,000
Spas in Hassan do cost a bomb but the service they provide is good.
Drive to your spa and spend your weekend there quietly. The rooms are well maintained, and the staff is helpful and polite. The parking area is free and there is ample space for you to park your vehicle.
Set amongst a clump of palm trees, this spa resort is a soothing and relaxing destination. If you want a massage service, you need to inform the spa authorities well in advance.
The spa that I went to is located 1.5 kilometers off the Hassan-Bangalore highway. This resort has a swimming pool, and a free Wi-Fi service too. The building is spanking new and there is an air of freshness about this resort. For people who prefer to remain indoors, there is a billiards room. Children will find this resort enjoyable and so will the young adults. There are some adventure-oriented activities lined up here for your teenage children so while you get yourself a massage, they will have a great time.
Check out your favorite spa in Hassan by clicking this website
Tour of Bhagwan Bahubali statue
Location- Shravanbelagola
Cost-INR 5,333
This cost is indicative and you want to check the exact figure by clicking the Tourism Karnataka website. 
Book your full day tour from Bangalore to Shravanbelagola and visit the 800- year old statue of Bhagwan Bahubali. This cost includes a a trip to Belur, Halebid, and Shravanbelagola.
This private trip includes all the taxes and other costs. A private guide will also be provided in this trip. You will get comfortable rooms during your stay and your  tour operator will also provide you with a comfortable transport.
Trips to Shravanbelagola start at 7 a.m in the morning from Bangalore. From there, your tour leader will take you to Halebid, Belur, and a few other places before arriving at Hassan. The itinerary wil include a visit to the Chennakeswara temple which is an important Hoysala monument.
This price does not include food and drinks, and gratuities. You will be dropped back at your hotel later in the evening. Normally, this cost includes handling charges, tickets and other kinds of fees. This tour is not recommended for disabled persons and those who have heart problems.
Tourism in Karnataka- Agumbe
Agumbe is an adventure seeker's delight. It is the 'Cherrapunji of South India' and is the wettest region of Karnataka. Agumbe is known for its world famous rain forest research station. Trekkers who want to soak in the greens of the Western Ghats should go over to Agumbe.
Agumbe rainforest research station
Cost of Activity- 1500 per person/ per day
Location- Agumbe, Thirthahalli taluk, Shimoga district, Karnataka
No. of experience provider- 08181-223081
Travelers wanting to explore the ARRS may book their  dorms in advance by calling up the number listed above. This world-famous research station is known  for its rains, forests, clouds as well as its reptile population. I guarantee you an out of the world experience while you are driving to this exotic place. While driving down the ghats, you will be treated to an unmatched viewing experience.
It is an hour's drive from Udupi to Agumbe and the directions are straightforward. While at ARRS, join the research team in its hunt for various kinds of reptiles. The staff here is very friendly.
The cottage is spacious and you won't feel the need for air-conditioners. Unlike the food of other resorts, the food here comprises dal, chapattis, rice, curd, and pickles. Every guest receives only two chapattis and visitors are encouraged not to waste their food. Tea is available in large quantities, though.
I hope Karnataka Tourism really promotes this destination and stops its focus on Hami and Mysore.
Since this reasearch facility is solar powered, you will have to use your cell-phones sparingly.
Tourism in Karnataka has got a boost thanks to this charming research station in Agumbe.
Can your Karnataka holiday be complete without a visit to Jog Falls? 
Kundadri Trek
Location- 80 kilometers from Shimoga and 24 kms from Thirthahalli Village, Karnataka
Cost of Activity- INRS 2,500 per adult
Timings/Duration- 2 Nights/1 Day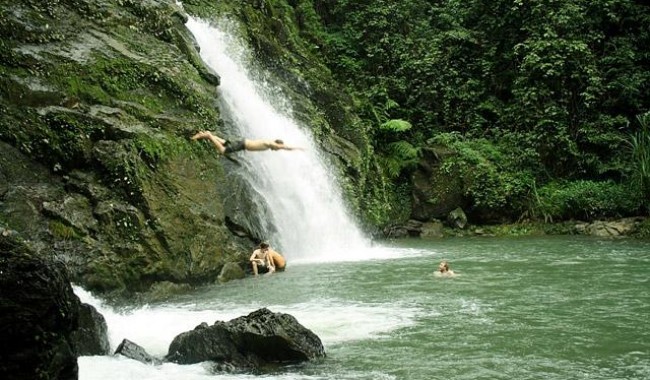 The Kundadri trek comprises a 14 km walk on hilly terrain to the Sharawathi backwaters, a 17th-century Jain temple located on a hilltop and much more. It will take 2 days to cover this interesting expedition.
Start your journey from Bangalore at 10 pm, arrive at Shimoga and check in at the hotel. Next morning after breakfast at your hotel, start for your trek at 8 am. Visit the 17th-century Jain temple, and after taking your snaps, head over to the campsite for an overnight stay. Next morning, after having your meals, trek to the Sharawathi river and the Kundadri peak. Since the terrain is rocky, it is advised to put on hardy shoes. Your trek should be over by late afternoon post which you return to Shimoga.
The Kundadri trek is pretty easy for most participants. The trip cost covers transportation, instructor charges, and meals. Please avoid consumption of liquor.
Surprisingly, many guides and books on tourism in Karnataka neglect the wonders of Agumbe and Kundadri. I wonder why.
Waterfalls trek at Agumbe
Cost of Activity- INR 4769 per adult
Timings/ Duration- 3-days, 2-nights
Location- Agumbe, Shimoga district
The cost of this activity includes transport, meals, pick-up and drop, accommodation, and the cost of the instructor. The tour operator will pick you up from Bangalore. The stay arrangements have been made in Agumbe. This 3-day, 2-night trip promises loads of fun and other interesting activities.
This waterfall trek includes expeditions to the Onkebi waterfalls, Kattina Madike backwaters, and the Kundadri peak. This area receives a lot of rainfall and as such is lush and green. Spot amphibians and reptiles in this guided tour and learn about these wonderful creatures.
Please note that accommodation will be provided in tents on a double or triple sharing basis. Breakfast will be provided on Day 2 and 3 of the tour while lunch and dinner will be available on Day 2. Please carry mosquito repellents, and dress up lightly. Since this is a jungle trek, it is advisable to put on sturdy shoes.
Boating in Barkana Falls
Location- Barkana Road, Agumbe
Timings/Best time to visit- After August
Agumbe is just one hour away from Manipal. Once you reach this place, ask for a guide at the Forest Research Institute. Agumbe is also known as the Cherrapunji of South India. The famous TV serial Malgudi Days was shot here. Even though the research station in Agumbe has rooms, one may like to check out Hotel Ganesh in this small sleepy town.
If you are trekking down to Barkana then please note that there is no proper path to this place. Travelers will have to walk and jump over numerous fallen trees to reach the Barkana viewpoint. From this place, you can have an excellent view of the waterfalls which are located 6 kilometers away. Gain, there is no proper path to these falls so you will have to walk through dense forests, and muddy paths. The trek to these falls is rewarding though as you lose your tiredness upon reaching this point.
Kindly put on long sleeve shirts and trousers/ jeans during this trek. A sturdy pair of footwear is needed on this trek.
There are many other places in Karnataka for the hungry traveller to visit. Over the next few days, I will put out some more interesting places to visit in Karnataka.
If you would like to add more places in this blog on tourism in Karnataka, please write to me.