April is in full swing and India is bracing for a very hot summer. But does India stop enjoying itself in April when the Sun is blazing away for the most part of the day? Let's have a look at some of the Indian April festivals in this blog-post.
Indian April Festivals- What, When, Where?
1.Baisakhi
Spirituality, festivities and good life come together this month on Baisakhi. This word comes from the word,'Baisakh' which is a corrupted version of 'Vaishakh' which means an Indian summer month. This April, Baisakhi falls on April 14 and if you are in Punjab that day, you will encounter festivities, music, and dance throughout the state.
Baisakhi is one of the most vigorous Indian April festivals and is marked by day-long dances accompanies by some spirited dancing by the Punjabi ladies and men-folk.
It was on Baisakhi that the Khalsa Panth was founded by the Tenth Khalsa Guru Gobind Singh. Today, Khalsas are also called as Sikhs.
From an agricultural perspective, Baisakhi also marks the harvest of crops. After the crop is harvested, the fields are left to 'heal' themselves so that they are ready for the next crop season.
2. Rongali Bihu
From Punjab in the west, let us go to the eastern part of India, Assam. Rongali Bihu is the corresponding April festival of Baisakhi. Both the two Indian April festivals celebrate the harvesting season.
If you are not in Assam this April, then bad luck; you won't be able to enjoy the graceful Bihu folk dances of the Assamese men and women. Unlike the Punjabi Bhangra and Gidhdha, Rongali Bihu is a bit slow but very graceful to watch.
You can watch the Bihu dances in Assam Bhawan, New Delhi or in various places in Assam. Dates- 14-16 April
3. Bhandara Festival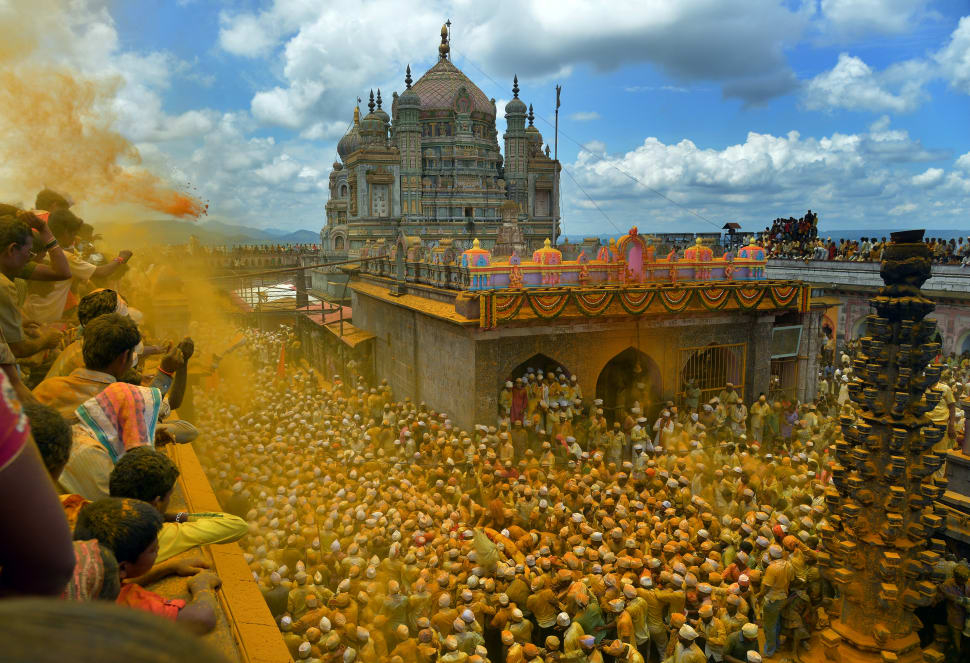 If you want to be a part of craziness, then head over to the Bhandara Festival. This summer festival is held a few kilometers south-east of Pune in Maharashtra.
The main highlight of this event is the throwing of vast quantities of turmeric or Haldi at the main deity of the temple. The deity in question is Khandoba who is responsible for fertility. Not surprisingly, you will find many newly married couples in this temple town on Somvati Amavasya which is when the deity is worshipped.
The words Somwati Amavasya refer to the Mondays when there is no moon in the nights. Therefore, this festival is held several times in a year.
Khandoba is a Lok -Devata or a folk hero who lived in the 9th century. He is worshipped by people living in Maharashtra and Karnataka.
You can visit Jejuri by taking a cab. This year, this festival is being held on April 16.
4. Chithirai Festival
One of the longest festivals in India, the Chithirai festival has an interesting background.
The word Chithirai is derived from 'Chaitra' which refers to an Indian summer month (Baisakh follows Chaitra).
The Chithirai Festival celebrates the marriage of Lord Shiva with Devi Meenakshi.
Meenakshi was the daughter of a Pandian king, Malaydhwaja, and his queen Kanchan Malai.
Meenakshi came to her parents' lives quite late; for a good number of years, the couple was childless. Obviously, the king and the queen were worried at the situation so one day they prayed to God for his intervention.
Thanks to their prayers, the couple was blessed with a baby girl who was named Meenakshi. When Meenakshi was born, a celestial voice announced that she was the avatar of Shakti.
The couple raised their daughter as a boy and after a few years, the King gave away his kingdom to his daughter and left for the jungles.
Meenakshi was a very brave and capable ruler of her kingdom and fought several wars with her enemies. She won all of the wars and one day, Meenakshi decided to attack the abode of Lord Shiva.
When she reached Lord Shiva's place, Meenakshi was attracted by the grace and charm of the Lord. Driven by love, Meenakshi went up to Lord Shiva and prayed for their marriage.
In due course, Lord Shiva came to Devi Meenakshi's palace and married her.
The first 15 days of the Chithirai Festival celebrate this marriage. The next 15 days are celebrated by the locals to remember the arrival of Lord Vishnu to Madurai to heal Sage Mandook who had been turned into a frog by Rishi Durvasa.
I think the real importance of the Chithirai festival is the fusion of the Shaivite and Vaishnava paths for one month.
This year, the Chithirai Festival will be celebrated between April 18 and May 2 in Madurai.
To know more about the Chithirai Festival, please click this link >https://dravidian.me/madurai-chithirai-thiruvizha-festival/ 
5. Thrissur Pooram
Head over to the Vadakkumnathan Temple in Thrissur, Kerala and witness an incredible spectacle of music, dance and elephant parade. Watch the march past of 30 heavily decorated elephants as they head over to the main deity of this temple to pay obeisance to the Lord.
There is a huge rush, no doubt about it, but there is a great seating arrangement for overseas visitors inside the temple.
Date of Thrissur Pooram- April 25.
Make your Kerala holiday reservations by visiting this website > https://www.keralatourism.org/
If you liked this post on Indian April festivals, may I request for a donation? 
If you have a PayPal account and would like to make a small donation, please click here; swayamesh@gmail.com
If you have a Paytm account and would like to make a donation, kindly note down my mobile number- 9810840763.